COVER LOK 4 PACKAGING
SLM Manufacturing Corp. has developed a manufacturing technology which allows for the production of custom sized square and rectangular end closures free of any tooling charges. When coupled with SLM's tooling free Jetran folding plastic tubing Cover Lok 4 ends allow for the production of custom sized tooling- free square and rectangular packages. All Jetran tubes made for the Cover Lok 4 ends collapse flat which allows for more cost effective shipping and storage. See the square/rectangular assembly link for more information.
* SLM has a minimum order requirement of 1,000 packs per order












WANT TO SEE MORE?
Click on thumbnail to view image.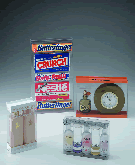 Click Here For Assembly Instructions